Rising Star Award Winner: Amy Olson - Walking Alongside Children and Families
– May 24, 2018
Child Care, Parents, Program Management, afterschool professionals appreciation, before and after school program, eleyo, building relationships, financial management, Industry Professionals, After School Elevated, rising star winner
This article was written by Haley Freeman, Contributing Writer for After School Elevated Magazine.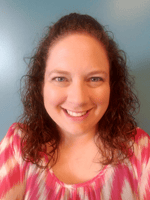 Meet Amy Olson, Program Assistant for Saint Paul Public Schools' Discovery Club (DC), a vibrant program that supports academic and social learning before and after school hours. Available on school days, during summers and on select non-school days, DC served 1,500 students across 12 locations in the 2017-2018 school year.
Olson has dedicated her entire career to DC, beginning as a teaching assistant after high school. She attended college with the goal of becoming a kindergarten teacher, but found that her true calling was school age care. "I like the flexibility of teaching to the level and interests of children, helping them explore the sciences and arts through a variety of activities rather than in a rigid classroom setting," she shares. "Although I fully appreciate what classroom teachers provide, I found this was the right fit for me."
Olson says that one of the most rewarding parts of her job is when a former student comes back years later to say thank you. "By that time, you think they've forgotten you. It makes me feel good to know I made an impact. It really speaks to the value of our program and the relationships we foster with kids and their families." Inspired by the many kids who have returned to express their gratitude, Olson recently found her own kindergarten teacher and paid it forward. "I went back and thanked her, because I know how much it has meant to me. I wanted to give her the same gift."
In her role as program assistant, Olson is tasked with many duties that keep DC running efficiently, including online registration through Eleyo, overseeing the process of parents signing children in and out each day on iPads, facilitating communication between families and the program, and developing opportunities to better meet the needs of participants.
"We bridge the gap between parents and teachers, as well. We're the only ones who see parents every day, and we help them connect with classroom teachers to support children in fun and creative ways. Over the years, we've seen a change in how we're being viewed in the schools. Teachers have become our allies. When our staff go meet with school staff about a child's IEP and how best to support that student, it's clear that we're not just seen as an after school fun space. A lot of teachers are also using us for their children's care. It's a huge compliment that they see the value in having an extended learning day right in the building."
After School Elevated - New Resource for After School Programs
Many dedicated professionals have remained with DC for 15, 20 and even 25 years. But like most before and after school care programs, DC struggles to recruit and retain qualified staff to fill its part-time roles. DC is "home growing" some of its future workers, inviting former attendees who are now high school students to return as greeters and remain through college. College students who are pursuing degrees relating to elementary education or youth services benefit from the opportunity to gain practical experience in their field with flexible work hours.
"When I was going to school in the middle of the day, it worked well for me to work before and after classes, and I could have my whole day completed by 6:00. People also see us a good way to get in on the ground floor of the school district and start building relationships within the school. Some of our college students who become teachers continue to work with us after school or as subs."
DC provides valuable training to workers at every stage of their profession. "We have a variety of monthly trainings, from new ways to explore the outdoors, to how we can better support children with autism, to how to work with difficult customers. I think training not only helps us deliver a better program experience, it helps us to secure staff when they feel they've been invested in."
The program welcomes children with special needs and works with families to develop individual accommodation plans. This is another opportunity to collaborate with classroom teachers and create a seamless learning experience across the school day. "Parents really appreciate the inclusion piece and how we are mindful and thoughtful about the success of each student. We work with all of our students on building empathy and support for people with varying abilities that they will carry with them into society. And for any student who is struggling with friendships or other difficulties, we're here to cooperate with parents and teachers to create solutions."
DC strives to keep its program inclusive in every way by making its fee-based program accessible to everyone. It offers various discounts and subsidies, and is an authorized child care provider for multiple counties and military assistance programs. It will raise its rates in the coming year for the first time since 2011, a testament to the program's judicious use of funds.
Olson and her team are passionate about facilitating daily activities that prepare children for life and help them build community. She says that in the future, she would like to see school age care extended to middle school students. "Some programs are exploring it. After school activities for older children are an opportunity for them to build on their education, while also developing empathy and caring friendships -- skills that aren't taught in textbooks."
Olson has never doubted that she chose the right career path. "It's so important to have caring, trusted adults walking alongside our children and families who are invested in them, who love them and want to see the best for them. Together, we are providing that in our community and contributing to a better society."