Integrated Registration and Billing Software For Child Care Programs
– January 31, 2017
In today's economy, child care programs must do everything they can to cut costs without affecting the quality of services. Switching to an integrated registration and billing software eliminates unnecessary costs for both accounts payable and receiving. When you need to run leaner, but do not want to cut it close with child-to-staff ratios, trimming waste from your back-of-the-house is the best option.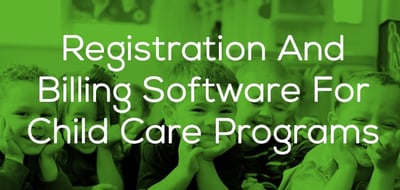 With smart integration for different processes, child care programs can eliminate errors and save time for parents and staff. For example, programs can use the same web-based account portal for registering and billing. Programs can also define their policies with an easy to use settings menu. Using this customization, the software automatically calculates tuition, multi-child discounts, and late pickup fees accurately and hands-free. Parents can then pay at time of registration and set up recurring billing as part of the registration process.
Here are some features from a combined registration and billing program that will provide convenience for busy families and extra support for child care program staff:
User friendly account portal on both desktop and mobile devices for viewing statements and making payments
Capture prospective enrollments by offering simple online registration and payment
Automatic debit makes payment processing safe and saves time
System automatically responds to declined charges
Apply promotional discounts and tuition breaks
Have the option to split tuition bills among family members
In addition to making life easier, capturing data during daily operations saves money. Pulling figures for costs and accounts outstanding, for example, are now simple tasks thanks to intuitive reporting features. Your management dashboard has a strategic planning tool that works off of actual "insights" from trends in your data. With smart reports, you can spot classes that aren't performing as expected and opportunities to expand services.
Providing better services for less cost just makes sense. Isn't it time you adopted an integrated registration and billing software for your child care programs?