Online School Management Systems Resolve Hassles For Community Ed
– December 16, 2016
Online school management systems take away the minutiae of managing a child care facility. One toolkit can replace time-consuming tasks, saving effort and reducing errors in the process. As scheduling and payment apps are built with intuitive features to prevent headaches, they simultaneously enable staff to focus their attention on the children, which ultimately benefits your bottom line.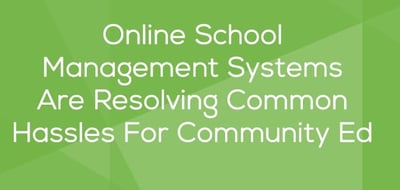 One program can be the modern solution for many different processes including billing, scheduling care, and customer service. That's why online school management systems is the leading edge in combining accounting and customer service tools into one central application while making it easy for staff, administrators, and families to log in online to use the appropriate tools for their respective roles. Parents can even have their own separate login credentials.
Community education programs rave about the instant improvement in communication and customer service, and management appreciate long term benefits after converting multiple workflow procedures into a single program. These strides are owed to automated features such as scheduling, accounting, and customer service, all provided in one program. Features have been designed and refined based on feedback from experienced child care professionals. There are many different hassles community education providers can prevent or easily resolve by adopting a streamlined workflow.
Let parents help themselves. Each parent has their own login, which they can use to make payments, access account info, and check each of their children's schedules. They can view and pay their accounts and even request schedule changes without bringing staff to the phone, making it especially helpful for cases of split families. As a result, families depend on an easy-to-use web portal, not your employees, to relay information between parents and other caregivers.


Keep all parties in the loop automatically. Everyone must be on board when a child's pickup information changes. Therefore, noting important information about children in a single data-center eliminates the possibility of miscommunications. Help parents to rest easy knowing that your facility uses an ironclad system for authorizing relatives and sitters to pick up children.


In the past, drop-ins created work for multiple departments; scheduling, billing, and facilitating non-recurring services required more administrative labor than regularly scheduled care; and communicating between departments about each unscheduled service created multiple opportunities for billing errors, scheduling conflicts, or missed messages. Now, when parents schedule drop-ins themselves, facilities can schedule up to capacity automatically and the cost of managing drop-ins is no longer disproportionately high.


An online portal that acts as a go-between is convenient and removes many potential conflicts from the equation. Late pickups change from a point of contention to a revenue stream when you automate a late-pickup policy. With online school management systems, billing for late pickups doesn't force caregivers to play the role of "the bad guy" who assesses charges. Instead, parents who book online find out for themselves when you don't have room, sparing your staff from delivering the bad news.


Managers can make better use of their time with the help of smart applications. In the past, supervisors at community education facilities were constantly called upon to handle account info, questions, drop-ins, etc. Now, requests for schedule changes, authorizing pick-ups, and other changes to an account can be handled at your convenience. Rather than responding to each request on-demand, you can set aside time to review and respond to client notifications, and then work on other tasks without interruptions. Online requests are also more convenient for working parents who have difficulty getting an opportunity to reach you by phone.
Online school management systems are great for children and good for business, too. There are countless examples of how online school management systems empower you. By allowing parents to take responsibility over their accounts, your staff can focus on providing top-notch care. So, run your facility with intuitive software designed with your real-life demands in mind. After all, setting up a self-service and streamlined administration leads to a better experience for all involved.