Dealing with Drop-In Days and Late Pick-Ups with Child Care Software
– August 22, 2016
Running a child care program is a balancing act. You're making sure your staff is providing proper care and enriching activities for children, fielding queries from parents, sending out contracts and invoices, and handling a myriad of other responsibilities that come with being a school administrator. That's why having the proper child care program management software is so important.
With a self-service software such as Eleyo, parents can log in to the online portal to handle their family's schedules, registrations, and pay for activities. And when parents are able to plan ahead, they can adjust child care schedules as needed. But life isn't always that predictable. This is where Eleyo's on-site sign-in/sign-out app shines.
When a child is dropped off that isn't on the roster, site staff can quickly add the student to the list for the day, verify information with the parent, and have the parent or authorized guardian sign off on the spot. The best part is that it's all tracked and logged with Eleyo's child care software. The invoice is automatically adjusted and there's no paperwork to lose – it's all digital.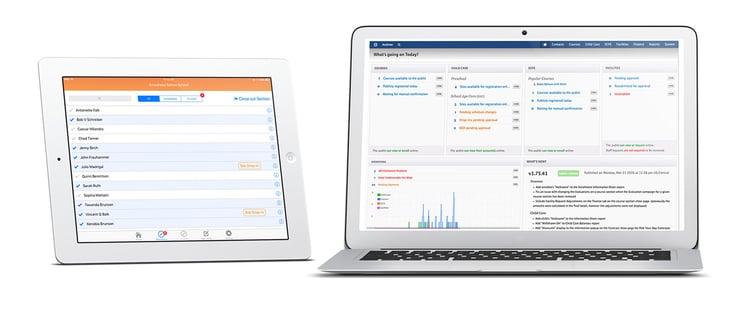 When it comes time to pick up, the sign-in/sign-out app time stamps every signature, so you know exactly when a student was picked up. When a child stays late, programs can charge overages for the extra time. Most districts have a grace period – five or ten minutes. But after that, they start billing, capturing additional revenue. Often, before Eleyo, many districts wouldn't charge for additional time – even though they were paying site staff and utilizing their facilities – because it was just too difficult to track reliably.
But with Eleyo, your district gets paid for every minute of child care it handles. Unexpected drop-ins and late pick-ups are automatically tracked and billed. This sort of precision time tracking and billing is exactly why districts are embracing Eleyo. Not only do you save time with automatic time tracking and reporting, but you are able to capture additional revenue to boost your bottom line and get a more accurate picture of your child care program expenses.
In addition, the sign-in/sign-out app gives site staff access to individual child requirements and emergency contact information, people authorized to pick up children, and comprehensive attendance and site information. With just an iPad, your site staff are empowered to handle all kinds of situations that used to need an administrator.
Eleyo is powering an ever-increasing number of child care programs and community education programs. With Eleyo, districts across the country are giving their parents a better user experience and increasing district revenue. In fact, Eleyo often pays for itself in increased revenue and time-savings in just the first few months.