How Does Your Current Child Care Online System Handle Split Families?
– January 3, 2017
Finding the right child care provider is a major decision that can affect a family's life for years to come. Parents take the time to assess the quality and convenience of each available option, which is why arranging reliable day care, is especially crucial for parents who live apart.
Providing good care is very important for the longevity of your business, but don't neglect the opportunity to make life easier for parents. In many scenarios, co-managing an account with a facility can be a big opportunity for conflicts to arise. With smart tech, it's easy to offer hassle-eliminating features that give you a competitive edge.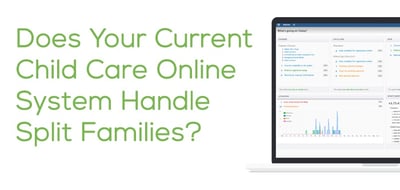 Transparent Communication
With web-based scheduling, using a shared calendar works like a virtual bulletin board that reaches separate houses. Some holdouts allege that digital communication is impersonal; but more and more parents appreciate the reliability that comes with a child care online system. In the case of arranging and paying for child care, split families value transparency because it makes communication stress-free.
Do caregivers using your current system have to choose which parent to call first in an emergency? With the ability to send text alerts right from your tablet or desktop, multiple guardians can be alerted at the same time. The same system can be used for convenient email messaging, in non-urgent situations too.
Just Split the Check
Divvying up a bill can be stressful for anyone, especially parents dealing with joint custody situations. Everyone appreciates convenience, but parents in divided families are very motivated to choose a solution that will eliminate stress. The same features that work to help divorced parents settle up are useful for other account setups. More and more couples are keeping separate checking accounts. Web-based online payments are also convenient for grandparents or other relatives who pitch in for daycare and enrichment activities. Regardless of the reasons, accommodating multiple payment sources is good customer service.
Helping Everybody Keep Track
We rely on online child care systems to help us keep children safe. Does your staff see notices about diet or allergies automatically, or must they search for that info? Are records totally up to date? Any changes to pick-up authorization should be noted in the child's cloud-based file automatically. Is your staff informed accordingly in the event authorized pickups change? Don't wait for an incident to realize you need a foolproof check in/check out system.
Accountability is a sore spot for some divided families. Mobile-based child care management apps help your staff to keep accurate records. With all of this smart technology available, it's unacceptable to guess or argue about late pickups or unexpected drop-offs. With a digital diary of every child's coming and going, staff is never called upon to remember which parent is responsible.
Many districts use electronic records, but are they fully available to all of the right stakeholders? Cloud-based childcare service records can be useful to parents when it comes time to access their financial history or in the event they need to share these accounts with agencies like family court. There are many benefits to using a child care online system that are especially useful for split or multi-residence families:
Cloud-based records make statements and account history easy to retrieve. Plus, the system backs up data for extra reassurance.
Systems that accommodate multiple-payer accounts can display the source, date, and amount of each payment.
Payers are automatically notified by an impartial third party of any missed or declined payments.
Automatically access info on changes to pick-up or drop off time.
Issuing duplicate statements and re-reviewing schedules for the same account is redundant work, which affects your bottom line. It is unnecessarily stressful to staff, too. In some cases, handling account questions puts staff in the position to act as go-betweens or mediators when payments are late or there is a dispute about charges. When parents can access information themselves, child care providers are off the hook for awkward interactions.
Everyone benefits from tools that are versatile enough for today's world. You can provide better daycare by leveraging a smart application designed with facilities like yours in mind. When you provide families with tools to make their lives run more smoothly, they will reward you with their loyalty. Utilizing the right child care online system, everybody in your school can forget about everyday hassles and focus on giving their best.