How Districts Are Helping Parents Manage Their Childcare Pain Points
– December 29, 2016
When strategically managing a childcare facility, there is much talk of how to identify and eliminate pain points to stay competitive. If the expression "screen time" is one of your pain points, you may be tired of hearing about how millennials and mobile phones are changing the world as we know it. But did you know that 90% of new moms last year were millennials?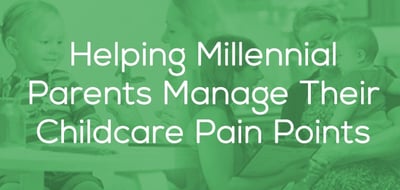 As digital natives, millennial parents have different preferences and expectations. Naturally, the typical parent's childcare pain points are changing. Forward-thinking districts are leading the charge to thrive in a wired world and adopting mobile friendly facility management software.
Enabling a text messaging alert system is an important first step. According to many new parents, telephone calls are preferably for emergencies only. Unfortunately for a lot of working parents, calls are unwelcome disruptions that create professional conflicts. A surprise phone call is jarring to somebody who prefers a moment to read, process, and reply to information. Relying on voice calls creates many childcare pain points in the eyes of your "80s baby" customers:
"Phone tag" wastes important time in real emergencies
Taking a voice call in public is less private than text correspondence
Not all important messages are technically "urgent"
Phone calls presume the parent is available to answer
Parents cannot anticipate how much time the call will take before answering
Receiving info over the phone that must be written down is inefficient and annoying
Sending SMS (text) messages to parents' mobile phones or using email is convenient for administrators too. Relying on web-based messaging will reduce time spent making and returning calls. Your district will need fewer business lines after phasing out routine calls. The same goes for replacing mailed invoices with e-billing. Using the same system to replace both calls and paper post more than doubles the efficiency!
Just as young parents can't always answer a call, they bemoan calling in for simple requests. Web-based preschool management applications allow requests to be instantly routed to the right department. Being placed on hold, transferred, and repeating the same query is maddening to a digital native who would prefer to request services online and get back to their busy day.
Despite popular criticisms about millennials being tech-obsessed, studies show millennial parents spend more time with their kids than the previous generation. Tech-savvy parents prefer managing personal business electronically. They value the convenience of online account tools like auto-debit and feel good about using less paper to help the environment. Secure online payment, self-service account features, and electronic receipts are must-haves for today's childcare providers.
Mobile friendly software applications help you to turn over bookings while parents are researching their options. In fact, parents searching for a caregiver will gravitate towards the option with the fewest childcare pain points. To millennial parents, looking at real-time availability online is the path of least resistance. It's not uncommon for a web-savvy shopper to open multiple windows to comparison shop options side by side. The facility with the least user-friendly website will likely be the first option eliminated by families who use smart tech to stay organized.
Whether you're competing for drop-in day care business or daily preschool enrollees, convenience is king to parents born after 1980. Enabling parents to research and engage with your school in one sitting will result in more enrollments by millennial moms and dads.