Paper Registration Is So Old School
– September 6, 2017
Child Care, Registration Software, Program Management, online registration
School districts have been using paper forms for before and after school child care since the dawn of time. Now is the time to ditch the paper and explore an online registration solution, and here are some reasons why.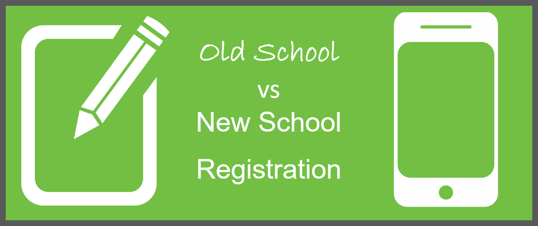 With smart boards and all the cool gadgets that schools are adopting, it seems many before and after school registration systems are still in the stone-age. Technology's purpose is to make lives easier and simpler. An online registration system does all of that and more.
Check out how we make registration easy for child care programs
Old school registration is where parents fill out paper forms and then stand in line to register their children for before and after school programs. Sometimes school districts need to chase down parents to get the correct information, forms, and payments.
New school registration is where parents can register online 24/7 on any device. This makes collecting information and payment easy for both parents and staff. But why?
Easy for staff

.

All forms can be completed online and by making critical information fields mandatory, registration will be received with every bit of information that the child care program requires. Staff no longer have to spend hours interpreting handwriting on forms and entering information into program management software. All the online registration and payment information is entered by the parents and immediately available at the staff's fingertips.

Convenient for parents.

After parents' create their logins and passwords, they can then enter all the information required for each child and register online. Parents register their children at anytime, day or night, and even from their mobile devices. Immediate confirmation emails provide the instant communication that the registration was received. The parents can also log into their family portal later to request schedule changes, change auto-payment information, and view past receipts, as well as print tax statements.

More time for everyone

.

Since parents no longer have to wait in line to register, it frees them up to spend more time with their children (or just relaxing). Since staff members no longer have to key in registration forms or chase parents down for additional forms, they can devote more time to the most important part of the program, the children!
Read How Family Empowerment Streamlined one School District's Workflow
If you're still using paper registration forms for your before and after school child care program, it's time to move into new school and adopt an online registration software solution. It will organize your registration process and save time for everyone!