Eleyo: The Next Generation of Software for Arizona Schools
– May 27, 2016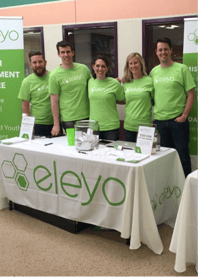 As a leading provider of software solutions for school program management, we were excited to partner with Arizona schools. As is our goal with all schools, we worked with Arizona to help make their processes more efficient so they could better serve their communities.
As part of our new venture, Eleyo launched the newest version of our award-winning software at the 2016 Arizona Community Education Association Conference in Chandler, Arizona. At the conference, we served up a scoop of fun with complimentary root beer floats during lunch and also gave away one $250 gift card. Eleyo's bright green cups were seen in hands throughout the event.


What is Eleyo?
Eleyo makes registering for classes and managing child care programs easy, straightforward, and saves school districts valuable time and resources. Eleyo is an integrated, one-of-a-kind software product, encompassing all facets of running a modern community education program, including helping districts meet Arizona Blue Card requirements automatically during the registration process. Eleyo automates registration, payments, and child care contracts, freeing up administrators to focus on making programs better and serving a bigger audience.
By using and implementing Eleyo software, parents get a self-service portal to register their children, adjust schedules as needed, and automatically pay for services, whether it's a one-day drop-in or a recurring monthly schedule.
"There's no other software in the marketplace that's as easy-to-use and comprehensive," says Joe Hickey, Business Development Manager. "The software was designed from the ground up to be the best solution specifically for school program management. Our community education system works for districts of all sizes, including some of the largest in the country."
The cloud-based solution requires very few system resources and is easily accessible via any web browser. The onsite sign-in/sign-out app gives site staff a real-time overview of attendance and assignments as well as the ability to make last-minute changes to accommodate drop-ins and schedule changes.

Top Eleyo Features
Arizona Blue Card support
Parents manage the whole family through one account
Flexible scheduling module, customizable down to the minute
Self-service for parents to register, change schedules, and pay
Administrators get valuable insight and analytics into how their community education program is running
Administrators and support staff can offer unparalleled levels of service and engagement with their communities
Arizona Gives Eleyo a Big Thumbs Up!
Eleyo is already being used by a number of school districts in Arizona, and Eleyo's community education system is now available for Fall 2016 registration. To learn more about the software and how it can help you, get in touch with us.