Eleyo makes Community Education Jobs Easier - Just ask our Users
– February 1, 2017
Community Education, Child Care, Customer testimonials, preschool
Eleyo's mission is to make life easier through innovation and technology. This is essential to the success of Eleyo and in order to fully know how our software is performing, we go directly to our users through an annual user experience survey. Here is what our users had to say about each Eleyo module in 2016.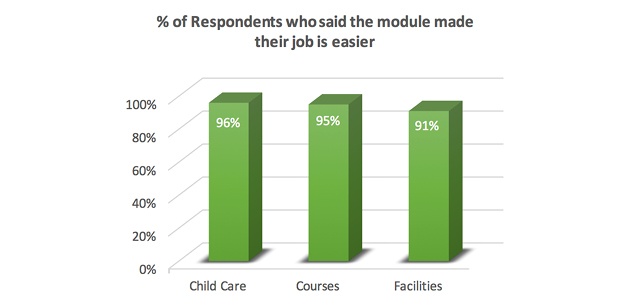 The survey has a section for each module and the survey respondents are asked if the module makes their jobs easier. The chart shows that the majority of users find the modules do make their jobs easier!
CLICK HERE TO REQUEST MORE INFORMATION ON HOW WE CAN MAKE YOUR LIFE EASIER
Child Care Module Feedback
When asked how the Child Care module made the respondents lives easier, the majority of responses were that the Child Care modules bring registration online and that everything is accessible electronically. Having registration and payments online allows for easier reporting on the district side. Users also commented that the iPad attendance apps makes child pick up and drop offs run smoothly as well as provides accurate reporting.
"iPad sign in and out is great, the reports we can pull, pulling up attendance for all children, county billing on here has made our lives much easier as well!"
Course Module Feedback
Similar to the Child Care module, respondents for the Courses module highlighted that online registrations made their jobs easier because everything is electronic and stored in one place. The system is accessed from anywhere and it is very easy for parents to use as well. Another feature that made respondents jobs easier was the fact that you can customize the reports and the course roster so only the information needed is pulled.
"Our district uses the Courses module for our Summer Stretch and Jumpstart registration. Teachers can do attendance online, which will make my job much easier when I do my summer DPI report. No more calculating attendance. I can run a report."
Facilities Module Feedback
The respondents for the Facilities module said that having one location for both the public side and district side to view facility schedules made their jobs easier. Everyone can see the same schedule which prevents overbooking and allows for one person within smaller districts to track facility schedules and permits. Another highlighted area of the facilities module was the search function, making it easier to find room availability for a specific date or date range for a certain location or the whole district.
"It's easy for the public to use, so a lot of our customers register online. It doesn't take a lot of time to set up an account or register someone for a class."
"All the pertinent information in regards to our facilities is easily found in one place, which helps when there are quick questions about the availability of a certain venue in the future or even to look at events in the past."
"Accurately keeps track of what is going on in district. Easy for renters to check their reservations. Easy for custodians to log in to see what is going on in their building."
To learn more about Eleyo, CLICK HERE