Customer Story: Newton County Schools
– August 13, 2019
Less conversations about fees, more time spent talking about children



The challenge.


Collecting payments during child drop-offs & pick-ups

When parents in Newton County, Georgia register their kids for the district's Child Care program, After School Academic Program (ASAP), they have no option to pay online. As a result, parents had to bring in a check or cash during child pick-up or drop-off at ASAP. As the way life goes, parents would often forget to bring the funds, and an unnecessary pressure was continually placed on site staff to confront parents about missing payments.



This created two sources of tension during pick-up and drop-off times. First, children become exposed to potential financial issues within the family. Second, the important relationships between parents and site staff began to revolve around payments, rather than the growth and development of their children.




Customer Profile

The solution.

Making pick-up time about the children
Prior to Eleyo, ASAP was using an outdated childcare software program that, after being acquired by another childcare software company, was no longer performing product enhancements. After months of frustration, ASAP started exploring other alternatives. Their key initiative was to find a software that was user-friendly for both parents and staff and that offered online payments to minimize staff's roles as payment collectors. After weeks of research, ASAP found the perfect fit in Eleyo.

A large part of ASAP's reason for choosing Eleyo was the Family Portal. Eleyo's Family Portal enables ASAP parents to log in and pay with the click of a button. Parents can now securely pay online, 24 hours a day, seven days a week. Parents can also view current invoices, past payments and receipts, and update important information about each of their students. Additionally, they can sign up for auto-pay so that they no longer have to worry about missing their tuition payments.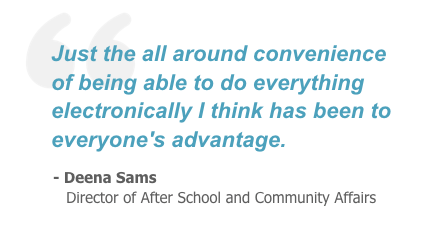 Through Eleyo, staff can easily track payments and no longer need to play the role of bill collector. This change in process has saved staff hours each week in managing payment processing. More importantly, pick-up and drop-off time is once again about the children and their experiences and growth at ASAP.

In the coming weeks we'll be posting more stories from our great customers like LMSV! Subscribe to keep up to date with the latest in before and after-school care!