LIVE BLOG: Resources for Community Ed and Child Care During COVID-19
Updated March 30, 2020
As your programs continue to weather the storm of COVID-19, Eleyo strives to be a resource. To help, we're introducing Live Blog: Resources for Community Ed and Child Care During COVID-19. Updated regularly, we'll use this blog to develop and share from districts across the country, the most pertinent information you need to move forward in this crisis, including communication, team management, staffing and community engagement.
At the bottom of the live blog we have a moderated comments section. Please share any of your program's best practices or feel free to ask a question to learn what other program's are doing.
Topics Covered:

Our next update focuses on how programs around the country can stay engaged with their communities in this fluid time. We'll provide our best practices on what your program can be working on and share what other districts are doing to remain top-of-mind and not skip a beat.
And we want to hear from you. Take this three-question survey to help guide our community engagement conversation.

Remote work is our new normal. Overnight, COVID-19 has changed the way you run your programs, putting obstacles in front of communication, structure, overall process and procedure and more. At a time when you need to work closely with families and make critical decisions about your programs, you're in a work environment that is largely unfamiliar.
Previously, we discussed the importance of effective and thoughtful communication to families in this trying time. Now, we're focusing on how we can help you and your teams get the most out of your remote working situations.
Below, we outline best practices to enhance communication, structure and productivity so you can keep your programs in the best shape possible during COVID-19.
Important Considerations
Be Flexible — We all have a unique situation going on at home. Kids, pets, spouses or individuals also working from home and even technology restrictions can now create interruptions in our work day. Structure is very important, but you must allow some flexibility for your team to address other areas of their lives throughout the day. Also, define working hours for your team. Balance is key.
Separate Spaces — When working remote, you and your employees can fall into the trap of working, hanging out, eating and even sleeping in the same space. Encourage your employees to define spaces for work and outside of work in their home. Also, encourage your team to get outside when they can. Take conference calls while walking around the neighborhood, take the dog for a walk at lunch.
Control What You Can Control — It's difficult, but important to keep focus on what you can control during this time. As there are a lot of unknowns around your programs, you can control you and your team's output. Make the most of the time you have.
Form a Plan — Whether one, two or four weeks, form a plan of the specific initiatives and projects you and your team can complete during this time. Set specific, measurable, attainable, relevant and timely (SMART) goals and hold regular check-ins and status updates. With specific projects to work on and complete, you and your team can remain focused outside of your normal work environment.
Keep Momentum — Understandably, a majority of your work halted or shifted during COVID-19. Keep momentum where you can to set yourself up best you can later in the year. Further down, we'll outline some projects you can address during this time.
Communicate With Context — Communication, and especially context, is key when working remote. Follow the two-sentence rule — if you're typing up an email that's longer than two sentences, you're better served picking up the phone or starting a chat or video call.
Goals, Roles & Responsibilities
To achieve the tips highlighted above, it's important to put an increased emphasis on many facets of your work. Specifically, you need to form SMART goals for what you want to achieve working remotely. According to Forbes, you can establish and achieve goals through remote work by:
Identifying goals that can be measured

Breaking your goals down into smaller tasks

Scheduling ample time for goal completion

Regularly reviewing goals and adjusting as needed
While goal setting, reinforce your team's roles and responsibilities in the coming weeks. These should already be in place, but defining and emphasizing everyone's role in the coming weeks will help them focus and will guide productivity.
Structure
Structure is always crucial to productive teams, but you need to place a higher importance on it for remote work. The concept of daily structure is skewed when employees are thrown out of their routine.
Routine — Form a schedule for your team. If they're not in place already, establish quick daily team syncs, one-on-ones and weekly update meetings with everyone. These meetings assure projects remain on track, and they help create daily workflows for your team. Everyone knows what the team is working on and no transparency is lost.
Determine format (Slack, Zoom, etc.), agenda, the necessary team members involved, and you'll be surprised about how quickly and efficiently these meetings run. In most cases, 15-30 minutes is more than enough. Make time for casual conversation as well, as these interactions are decreased during remote work but remain important for morale and inclusivity.
Scheduling — For the time being, gone are the days of popping by someone's desk or into their office for quick updates. Working remotely means even casual updates should be scheduled. Again, forming routines and establishing structure is key in remote work, so it's important that calendars are always frequent. It is also important to put blocks on your calendar. While team collaboration is important, it is also imperative that you have time to work on your own projects free of interruption.
Tools
Managing a remote team can seem overwhelming on its surface, but fortunately there are many, many tools you can use to effectively manage remote work. Project management, video conferencing, document and file management and sharing, and chat are all now aided by technology.
Project Management — One of the most important aspects of working remotely, your project management can be greatly improved with some digital tools. Trello, Monday.com and Asana are just a few of the digital team to-do lists out there. Trello, for example, empowers your team to manage everything from small tasks to large projects and includes chat, file sharing, checklists and takes just minutes to learn how to use.
Communication — It's even more important to communicate when you can't just walk down the hall. Slack, Zoom and Google Hangouts provide both chat and video communication options for your team. Hold your daily syncs, weekly meetings and one-on-ones seamlessly with any one of these options. Slack allows you to have private chat and group channels, making it easy to keep everyone informed in real-time.I
Managing Files — Just because your team is remote doesn't mean that documents, meeting notes, files and more don't need to be stored, updated and shared. Luckily, Google Drive provides an excellent platform for your team to create, update, store and share documents, grids and many other file types. Create and edit documents in real time while on a Zoom or Slack call or a Google Hangout. Dropbox also provides a useful platform to store and share files of all types.
Projects
Once you establish schedules, routines, workflows and tools for your remote team, it's time to focus on what you and your team can be working on in an unusual time for your program. After speaking with some districts, we put together a list of thought starters for your team:
Program Materials — Many programs are using this time as an opportunity to review and update materials such as employee handbooks, brochures and catalogs. Is your messaging updated? Are your program details (courses, dates, pricing) accurate? Use this time to place a close on eye on all materials to make sure they're current.
Website — Along with their materials, give your website some attention during this time. Does its functionality and design match your program's offering? How can it be improved to provide a better experience to your families? This is a great time to double-check that all of your site's links route accurately, especially if you just launched summer or fall programs.
New Tech — Technology is quickly shaping how families can register and pay for programs. Today's 24/7 parent relies on technology to create efficiencies in their day-to-day. How can your programs innovate with new technology to meet the needs of your community? Now can be a time to explore as you may have more time for discovery, demos, and even trying things out.
Process and Procedures — Now may be a good time to take a step back and look at the ins and outs of your program's day-to-day procedures. From registration, scheduling, payments communication and more, can area's of your program be improved? Are any processes outdated? Are there any analytics you just never had the time to build out? A great example: before you go live with your fall enrichment programs, run a report to make sure you are not missing any of your previously most successful offerings.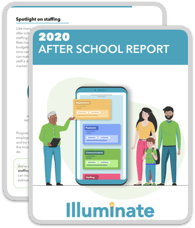 Professional Development — Unfortunately, professional development is something that always falls at the bottom of our to-do lists. If you and your team are limited about the tangible projects you can work on during this time, explore professional development opportunities. Webinars, reports, or online courses are just some of the examples of virtual development opportunities you can find. For some awesome development and learning opportunities, check out the additional resources section below.
Next week, we'll talk about how community ed and child care programs are staying connected with families during this break. And we would love to hear from you! Take this three-question survey to help guide the discussion on what programs are working on to stay top-of-mind during COVID-19.
Communicating with the families in your district is one of the first, and most important, aspects of your program's actions in the coming weeks. However, we understand the challenge of establishing communication in a time of crisis.
Here are some tips on how you can effectively and thoughtfully communicate with families in your community.
Messaging
The shifting world around us places higher importance on the messages you share with your community. By focusing on the basics in your messaging you create genuine communication.
Wish them Well — Health and safety above all else. Take the time to wish the families in your community the best of health. It might feel redundant, but it's a necessary reminder of what's most important.
Set the Stage — Address the current situation from both Federal and State standpoints. Reference all necessary government updates. For example… "In accordance with Minnesota Governor Walz' address on Sunday 3/12, Minnesota is suspending all school aged child care and enrichment programs."
Align with the District — Many programs are aligning communications with their larger district as the district releases updates. This approach provides a consistent message to your community. Use your communication to reinforce district messaging. It's a clear, unified message during uncertain times.
Be Empathetic — When developing communication to families, it's important to lead with empathy. Ensure your community that they're being listened to and understood. This crisis impacts us all in a unique way. We're going through it, together.
Be Honest and Transparent — COVID-19 is an ever-evolving situation, and it's OK to let families know that your situation is changing daily, just like there's. Let them know your program's current status and where you're at in your response. Ask for patience and understanding, and as your district knows more, you will keep the community updated, frequently.
Be Resourceful — Regardless of the exact topic of the communication, your families are going to have a variety of questions. Use your communication as a place to list out who the best person to go to with each question is. Also, this approach helps make sure no audiences are being left behind.
Frequency
As mentioned, it's important to reassure your community that when you know more, they'll know more. After your initial outreach to the community, provide updates as they pertain to the status of current and upcoming programs. Updates could include:
Larger Federal, State or District statements

Closures, cancelations or postponements

Refunds

Virtual program alternatives
By forming a steady stream of communication to your community, you establish trust and reliability.
Segment Communication
If possible, divide and triage your communication and response strategy. Establish priorities, then create separate channels (emails, phone numbers, etc.) to address different types of issues your community might need help solving. Some examples:
Refunds and vouchers

Course cancelations and suspensions

Child care

Enrichment (adult, youth and events)

Facility rentals

Recreation (adult and youth)

General questions
Program sizes vary, but if possible, dividing communication streams helps reduce the load on your staff while shortening response time to parents.
Social Media
Your social channels are a valuable resource to communicate widely to families. Use them as a vehicle to spread your messages. Once messages are shared, monitor and actively listen to how your community responds. Use comment sections to address feedback and reinforce messaging.
Tracking & Distribution
It's critical to closely monitor the communication you're sending and receiving from your community.
Outlook and Gmail allow grouping and tracking messages and responses as conversations, which helps monitor communication streams. If you are not already using an email distribution tool, MailChimp, Constant Contact, MarketVolt, Sendinblue and more allow you to easily scale and track your communications, helping you understand who in your community has received each update.

NAA & Afterschool Alliance Resource Guide
The National AfterSchool Association (NAA), Afterschool Alliance and additional national partners have teamed to create another centralized location for after school-related COVID-19 resources. Access their resource guide here:
NAA & Afterschool Alliance Resource Guide
---
World Health Organization (WHO) and Centers for Disease Control & Prevention Website
---
LERN Online Learning Resources
Learning Resources Network, Inc (LERN) has a robust series of archived and upcoming webinars focusing on online learning and course instruction.
---
Remote Work Resources
Digital project management tools Trello and Slack provide great resources on how you and your team can, not just cope, but embrace remote work. Additionally, Hubspot compiled and shared their 2019 remote work report, surveying more than 1,200 working professionals in the US, UK, Ireland, Sweden and Australia.