Top 5 Struggles Child Care Staff Face And How To Handle Them
– January 5, 2017
They say an individual is only as good as their habits, and the same could be said of your business. Procedures that are unreliable or labor-intensive will weigh down your staff and eventually affect the success of your child care facility. Therefore, setting yourself up for success takes a little self-examination and follow through. Think about how often these five struggles present themselves to your child care staff.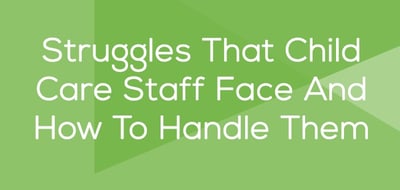 1 - "Late pickups can be stressful."
Many child care providers share this sentiment when the daily schedule is impacted due to unanticipated circumstances. We all know that running on time is every parent's challenge as they are busier than ever! Charging for late pickups can help to incentivize promptness, but documenting and billing for the extra time can seem like more trouble than it's worth without a proper system.
It IS possible to turn late pickups into a revenue stream without the stress. Using one integrated system for logging pickups and billing removes you from the late bill equation. If you use a system that works on mobile devices, staff can update each child's record instantly in real time. With a child care management app, the system assesses late charges automatically without placing responsibility on individual caregivers.
2 - Tuition and Fees
How well the office functions is just as important to the success of a daycare operation as the child care staff. When employees are using out of date systems, they are duplicating work and creating many opportunities for errors. The old standard processes for billing use more labor than your more modern counterparts, rendering the business less profitable. Think about how some of these services add convenience for both the provider and the families:
Automatically send one bill for multiple kids
Accurate add-on charges that automatically reflect services
Auto-notifications about declined payments
Automatic recurring debits
3 - Drop-ins
Be accommodating without bending over backwards. When your child care staff can take multiple incoming calls, there is a possibility of overbooking. Don't let an overabundance of drop-ins skew your child:staff ratio.
With child care management platforms, parents can view availability and book care for themselves. Self-service helps you fill to capacity without any additional effort from staff. Plus, nobody has to break the bad news to parents that you're full.
4 - Communicating With Parents
Speaking of communication, reaching parents is paramount for both regular notices and emergencies. If your credentialing requires a sick policy, a lot could be riding on notifying parents their child has come down with something.
Establishing a good dialogue when everything is running as expected can help you in the future. In the past, staff occasionally had to deal with a parent who claimed they didn't receive the message, sometimes accusing staff of calling the wrong number. With web-based messaging, you have a record of all outgoing communication and won't have to apologize for mistakes you haven't made ever again.
Sending notices about special events or policy reminders improves parents' compliance. Get parents accustomed to hearing from you via email or text, and you'll have a reputable channel for sending less welcomed notes about things like behavior issues or tuition increases.
5 - The Little Hassles
Small redundancies really add up. Amazing technologies that make our home lives easier are constantly being introduced, and they keep getting more affordable. Today's young workforce has done away with the phone book, the takeout menu, and even the little black book and traded them all in for one information source, the web. Your new hires will expect the same efficiency at work.
Imagine losing your best preschool teacher not because you couldn't afford a competitive salary but because he/she would rather work someplace where a work schedule can be accessed from home. When you provide child care staff with an intuitive organizational system, you eliminate repetitive work. At the end of the day, staff with fewer hassles gives better care to their charges.
Identifying recurring problems is the first step to solving them. Picture how good things could be if you resolved all of these issues plaguing the child care staff at your facility.